Hii friends ,
Today am gonna discuss about keylogger which allows to monitor your pc or your friends pc. This allows to hack any social account of your friend (i.e) Facebook , orkut, google ., etc
So now lets see what is a keylogger and why it is used ,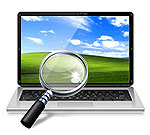 Keylogger - KeyStroke Recording Software
Keylogger software is computer monitoring system that allows you to record entire activities performed on your computer system. Key logger software has ability to monitor online chat conversation details, visited websites, incoming and outgoing emails and other online activities performed on your pc.
It works in invisible mode and does not appear on the Desktop, Add/Remove Programs, Control panel and even hidden in installation path folders. Keyloggers software provides facility to send details of recorded activities at user specified email address.
Keylogger not only tracks entire keystrokes activities but also captures screenshots periodically. This PC monitoring tool can record voice chat conversation, clipboard activities, accessed application and other activities performed on your computer system.
There are different types of keylogger in the market which provides different functionalities, here am gonna explain about two version of keylogger
1) PAID version
2) FREE version
Paid :
Althougt this is a paid version this type of keylogger is considered to be the best since it consists of features than the free version such as ,
# Remote installation
# Fully undetected by Antivirus
# Transfers the key strokes without any problem to remote system,. etc
Free :
This has the same functions that of the Paid version bt it works only for 30days as a trial and you need to buy to make it full version.
Let's see the features of the keylogger
Record Keystrokes
Captures Screen Snapshots (visual surveillance)
Monitor all users accounts
Records application activity
Captures Skype video screenshots
Employee Monitoring
Family member's activities monitoring
Generate Reports
Runs in secret invisible mode
Invisible in Startup menu
Easy installation process
Clipboard Monitoring
Sends Log by e-mail
Records Passwords
Unicode Keystrokes
System Administrator
Office Managers
Hotkey and Run Command feature
Provides Backup of records
Hides installation files and folders
Invisible in Add/Remove program list
View captured data
Windows Vista Compatible
Records voice chat conversations
FTP Settings
Records chat conversation
Records USB removable media insertions
Parental Monitoring
Surveillance Purpose
Automatic startup
Password Protected Application
Invisible in Task manager
Skips and bypasses all major Anti-keylogger security
Customized for specific targets
Important
:
All antivirus would detect keylogger as a virus since its a spy software dont worry its not, if its flaged as a virus then click allow to make the keylogger monitor the PC ..
So here am gonna give you the best keylogger full version for free , click the link below then wait for 6sec and click skip to download the software